Pre-order only
Tuesday - Sunday
Find us at the following farmers markets:
Thursday: North Park 3PM-7:30PM
Saturday: Little Italy 8AM-2PM
Civita mission valley 9AM-1PM
Sunday: Hillcrest 9AM-2PM
Reviews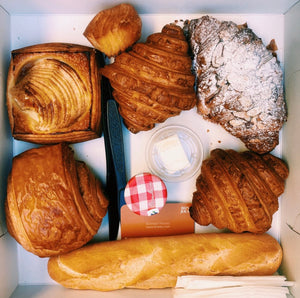 We were wandering around North Park with a hankering for a pastry, and we ran into this new pop-up at the Thursday farmer's market! They have the best croissants in...
★ ★ ★ ★ ★ I'm born and raised in France, I guess this makes me highly critical about French pastries. The two owners of Bonjour are both French and it shows. These are...
★ ★ ★ ★ ★ I tied their sample plate at the Farmers Market in North Park. You guys get an Alla star :). Excellent!!!! I love baking and that is a bad habit,...